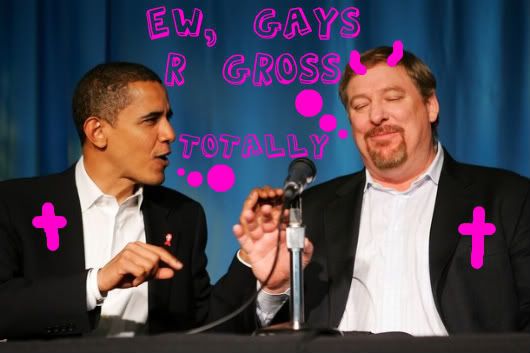 "Gay leaders are furious with Obama over his pick of a prominent evangelical minister (Rick Warren) to deliver the invocation at his inauguration." [Politico]
So, who is Rick Warren u ask? 
He's a California H8er who opposes women's abortion rights and who very actively supported the California constitutional amendment to ban gay marriage, aka Prop 8. But he's proly most noted recently for saying in an interview that…
"The redefinition of a marriage to include gay marriage would be like legitimizing incest, child abuse, or polygamy." (OBAMA '48!)
Yeah, so… In an attempt to be big tent Obama, and get some evangelical votes in 2012, u piss off every1 that voted for u in 2008. Yeah…
Gays r pissed off y'all… Never before in my 23 years have I felt as connected with my fellow gays as I have since Prop 8 passed. It's like everyone woke up, all at once, realized that we weren't equal, and got really pissed off abt it.
Mr. Obama, this is not the 90s… And u can not just don't ask, don't tell us away. We r NOT settling anymore. Don't let banning gay marriage, or holding up the ban's supporters, be ur legacy in the GLBT community… Do the right thing, even if it means u loose a few votes in 2012.  
TTLY, Conrad