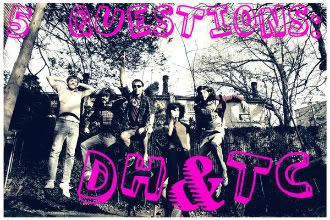 Philthy Blog asks 5 (mostly) random questions to (mostly) interesting Philly people…
5 Questions (for all intents and purposes, yes, they are yelling):
1. You guys have a lot of crazy shows… What was the craziest (if you remember)?  
FROM WHAT WE REMEMBER, WHICH IS VERY LITTLE, WE PLAYED A WEDDING PARTY IN RICHMOND, VIRGINIA IN APRIL OR SOMETHING. WE WERE ALL COMPLETELY TORCHED. WE STARTED OUT AT A SPORTS BAR DOING SHOTS WITH SOME GUY WHOSE DAUGHTER WAS PLAYING BASKETBALL SOMEWHERE NEARBY. SO FAR SO GOOD, RIGHT? WHEN WE GOT TO THE VENUE, WE SET UP OUR PORCELAIN HINDU GOD "DUKKA" ON STAGE. LITTLE DID HE/SHE/IT KNOW, IT WAS TO BE ITS LAST APPEARANCE ON THE PLANET. WHILE PLAYING, DUANE CUT HIS FINGERS ON HIS GUITAR AND BLOOD WAS GUSHING EVERYWHERE. THE COPIOUS SPURTS OF BLOOD MAY HAVE SHORTED OUT HIS AMP. JOE SPENT THE MAJORITY OF THE SET ROLLING ON THE GROUND FIVE FEET BELOW THE STAGE. DUKKA WAS DESTROYED IN A FIT OF NUTRAGE. EVAN WAS DRINKING ENTIRE BOTTLES OF WINE. WE PASSED AROUND A BOTTLE OF RED STRIPE TO COLLECT CONTRIBUTIONS, BUT THE ONLY WAY TO GET THE MONEY OUT WAS FOR DUANE TO BREAK THE BOTTLE OPEN IN THE BATHROOM. THE NIGHT ENDED WITH A NOTORIOUS MUSICAL FREE-FOR-ALL DURING WHICH DUANE'S OLD BAND REUNITED. THERE WERE AT LEAST 25 TO 30 MEMBERS OF THE "BAND". THE ENTIRE NIGHT WAS OVER BEFORE 9:00 PM.  
2. Would you rather get unlimited bjz from a girl, or unlimited anl? Do get off from bjz? (Some guys can't.)
DL: COOL COOL COOL COOL COOL.
EM: TAKE A NUMBER, LADIES.
EK: ANYONE WHO KNOWS ME ALREADY KNOWS THE ANSWER TO THIS.
VA: YEAH.
JK: LIP SERVICE.  
3. Favorite Philly band (besides yourselves)…
DL: HARSH REALM.
EM: LOVE CITY.
EK: TOUGH SHITS AND DR. DOG.
VA: MIDNIGHT BEAT.
JK: NAZZ.  
4. Neighborhood we would most likely never see you in…
DL: RAG FLATTS.
EM: RITTENHOUSE.
EK: KENSINGTON.
VA: WEST PHILLY.
JK: ANYWHERE BUT SOUTH PHILADELPHIA.  
5. 9/11: Inside job?
DL: INSIDE WHO?
EM: THAT'S WHAT SHE SAID.
EK: POSSIBLY.
VA: I'LL FORWARD YOU A COPY OF MY 30 PAGE MANIFESTO.
JK: BLOW JOB.
Lol-ing, litterally… love these dudes. DH&TC is playing New Year's Eve at the Tritone. Add them on Myspace HERE, to listen to some of their music, and so that they can feel good abt how many new "ladies" they got to friend them. 
TTLY, Conrad