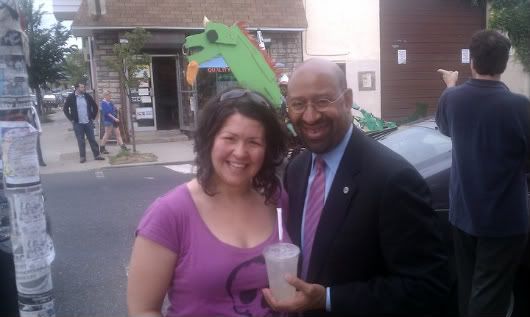 (Photo via)
Mayor Nutter headed over to Fishtown this weekend to check out the Kinetic Sculpture Derby, and while he was in the neighborhood he stopped by the Rocket Cat Cafe for some fresh squeezed lemonade… I love Rocket Cat Cafe and all, but people that are not from Fishtown treat it like it's the only respectable establishment in the whole damn neighborhood (aside from, of course, Johnny Brenda's).
You know there are other places in Fishtown to get your photo take, Mr. Mayor? Or to post wheat pastings, Mr. Shepard Fairey?… Like there's… Well… There's, um… Ok, well I can't really think of anything right now, I just got off work and I'm a bit drowsy, but I know they're here. I know they're here.
I couldn't make it to the Derby to take photos, but CLICK HERE to check out the pages of photos already uploaded of the event on Flickr.
TTLY, Conrad