There hasn't been much going on early this week, but tonight (Thursday) will more than make up for that. I've got three shows I'd like you to check out while I'm hoping I get out of my night class early…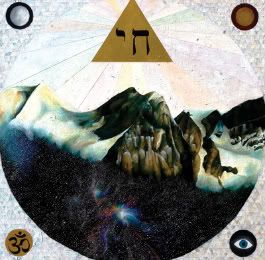 5/13 First of all, Danger Danger Gallery welcomes an unlikely trio of acts – Prizzy Prizzy Please, Secret Mountains and Mountain Man Pat Jordache. Secret Mountains' Kaddish EP is a stunning little gem full of strong lyrics layered upon a hazy wall of guitar. Despite the changing dynamics throughout the EP, there is a steady momentum and collectiveness throughout. I am really excited to catch these kids live and watch them squeeze onto Danger Danger's stage.
If you haven't already downloaded Secret Mountain's Kaddish EP, what are you waiting for? Head on over to Fall Records and name your own price.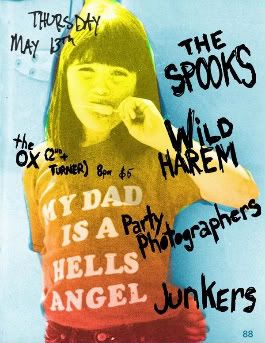 On the other side of town, both The Ox and The Khyber have full lineups. Fishtown boys The Spooks will be teaming up with Wild Harem for a night of lo-fi garage rock at The Ox. Also contributing some straight up rock n' roll are Party Photographers and Junkers. If you're riding the chillwave, 2nd and Oxford is the place for you come Thursday night. The Spooks and Junkers are two of my favorite local acts right now, so expect to be hearing a lot about these dudes.
Last but not least, The Khyber is hosting a record release show for Busses. These hometown dudes are a mix of moody garage rock, energetic 80s punk, and vintage pop rock. Also at The Khyber will be Imperial China, Corey Duncan of Oh! Pears, and Jeff Ziegler of Arc in Round. [Get tickets here.]
5/14 Friday night, Shdwply Records buddies The G and The Super Vacations will be hitting up The Ox with True Womanhood and Cephalopods. The Super Vacations have a surf meets psychedelic rock sound that will pair real nice with both The G and True Womanhood.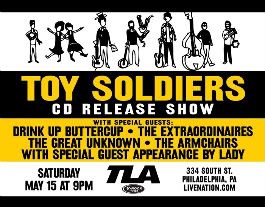 5/15 Saturday brings together some of Philadelphia's finest to celebrate the re-release of Toy Soldiers' Whisper Down the Lane. Drink Up Buttercup will be back from tour to lend a hand along with The Extraordinaires, The Great Unknown, The Armchairs, and Lady. I'm a little bitter that this is a LiveNation event, but I may have to grit my teeth and give in to "the man." [Get tickets here.]
-Jilian