I'm not really sure how I came across this Tweet, it's probably because I follow 2,000 people in Philadelphia, but… Really "DarK2Knight"? No, really?!
I STRONGLY encourage Philly's GLBTQ couples to hold hands, to sit between each others legs, to kiss, to hug, to look longingly in each others eyes, to be out, and to do it all over Philly. Especially this week.
Philadelphia, I'm here to recruit you… In honor of Outfest this Sunday, and in honor of ourselves… Let's be OUT!! Everywhere. Even in North Philly.
Oh, and I Twittered "DarK2Knight" about this post, so if you're reading… Really? Would you really have run two gay dudes over with your car because they were holding hands? Really?! Have you ever held hands with someone you love? Really "DarK2Knight"?! Let me know if you've had a change of heart in the comments…
UPDATE 1:

Yeah, I guess being a mad homophobic mess is pretty LOL funny. Sad.
UPDATE 2:
Hold up, wait… Looks like he's having second thoughts…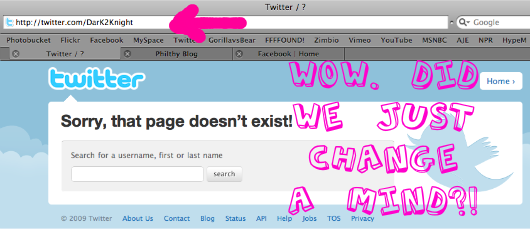 Wow. Thanks for all the RTs and Re-Facebooks y'all. And please keep it up!! Looks like we're successfully embarrassing bigots!!
"DarK2Knight" has changed his name to "NotoriousKnight"
UPDATE 3:
Just changed it again to "ShottaBlack"
And he'll probably keep changing it, if I keep linking to it. But, I have a feeling he's learning his lesson. 
TTLY, Conrad