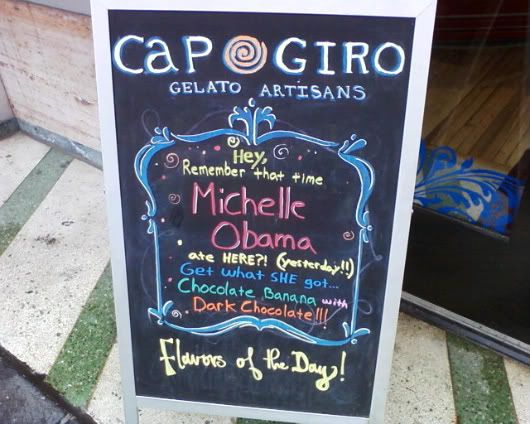 And if you follow me on Twitter, you were one of the first people in the city to know! So… FOLLOW ME!!!
According to the baristas working at Capogiro Gelato, Mrs. Obama ordered Chocolate Banana and Dark Chocolate, while the kids both had Dulce De Leche. They were offered a comp repeatedly but declined it, then they tipped $10 (ok but really, your husband runs the free world… literally… can I get a twenty?!)
They shut down the store for about a half hour and created a mob scene on 13th street. No photos of the Obamas were allowed to be taken, and the secret service were very vocal about that.
Oh, Oh… But my favorite detail was that one of the lesbians, Alex, working behind the counter (there were 2) was wearing an AA "Legalize Gay" tee!!! I wonder if Michelle has ever seen one of those before?!
The only photos taken were by the Obama photographer, and if any of those surface, I'll let you know.
This one's for you Michelle…
TTLY, Conrad