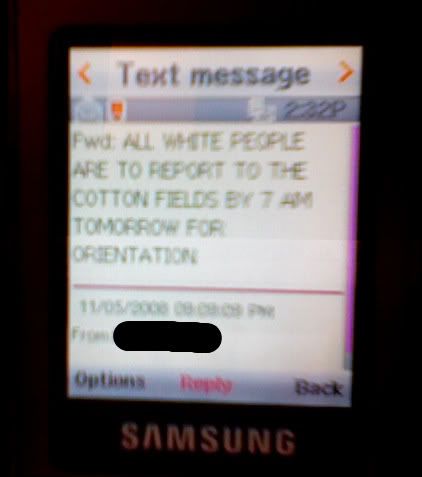 It Reads:
"ALL WHITE PEOPLE ARE TO REPORT TO THE COTTON FIELDS BY 7 AM TOMORROW FOR ORIENTATION"
Ok, When I First Got This Text Forwarded To Me I Was Really Pissed Off… But It Was Wednesday Nov. 5th, Obama Had Just Won, And I Was Still A Little Drunk. So I Blew It Off And Didn't Really Let It Get Under My Skin.
That Was Until Today, When Two Other People I Know Said That They Were Forwarded The Same Message… WTF?!
Is It Supposed To Be Funny? 
For Me It's Just A Horrible Reminder That For Well Over A Hundred Years Our Country Treated Other Human Beings Like Animals, Worse Than Animals. And To Try And Compare The African-American Struggle For Freedom And Equal Rights To White People Not Have A White President For A Few Years Is Retarded… Or At The Very Least A Very Unfunny Joke At One Of Our Country's Proudest Moments. 
What Do U Think?
TTLY, Conrad