Philthy Blog goes to F1rst Friday in Philadelphia with a look at the new exhibitions at Vox Populi. An interview with tyvek artist Tory Franklin at Bambi Gallery. And your first peek inside of Fishtown's newest artist-run space Extra Extra and a chat with two (of the four) owners, Derek Frech and Joseph Lacina. Check it out…
We're doin' things a little differently this F1rst Friday… Along with the usual video (above), we have a new commentary feature (below). Courtesy of a friend of Philthy Blog, Andrea McGinty. Who just happens to be a somebody who, unlike my current self, lives outside of the Twitter-aged 140 characters or less head space. (I am seeking help as you read this.) Andrea has written for many local art blogs, I'm not going to say which ones though, because I want to continue to believe she's my little secret. Check out what Andrea thought of our F1rst Friday visits…
F1rst Friday In Words by Andrea McGinty
In the fight against disappointment, I went out this First Friday looking for any opening with even a little bite. Luckily, I got a few nibbles from the Extra Extra, Bambi, and Vox Populi galleries.
Though Extra Extra didn't have an actual opening this month, they celebrated their future gallery and bookstore with music and mural painting. The gentlemen running the space were on hand with handshakes and introductions, encouraging all to take part in their paint-by-numbers mural. The neighborhood kids enjoyed painting on the white Geo Tracker parked in the front of the building (don't worry, it was all a part of the fun). I'm excited to see what these friendly guys have in store for the future of their more than accommodating digs.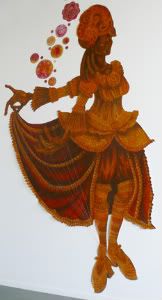 Bambi provided a pleasant surprise with monumental drawing/painting/prints on tyvek (and I now know what this material is, thanks to Wikipedia). Whimsical and overflowing with pattern, these works are fun to look at, but really, I was just psyched to see 2D works that continue above my eye level. It was a relief to see that Tory Franklin actually considered the space her work would be shown in. Hooray!
On to Vox Populi, where I was lucky to find my favorite work of the night, in the last place I would have thought to look. Maybe I was being a bit judgy when I assumed the works by Robert Chaney, Paul Swenbeck, and Clint Takeda might be a little cheesy. Can I truly be blamed when the gallery entrance was shrouded with black fabric emblazoned with the title None More Black in purple felt? The group show represented the theme of metal (specifically Black Sabbath) with a variety of media. Droning guitar surrounded sculptures of metal dude body parts (crotch down, hair up), a stack of cardboard speakers, drawings of various demonic figures, and silhouettes of band members, adoring fans, and birds in trees. Nestled between the other pieces the Vox website describe as "drawing a fine line between clever and stupid", a subtle, yet eye-catching set of photos shine. Double exposures of trees and flashes of light, with beautiful, but unassuming composition were strewn throughout the room. The photos have a snapshot feel, and look as if they might have been enlarged at the one hour photo.
The shades of color in the photo feel almost faded, as if we were looking at photos taken during Sabbath's heyday. Holding the most subtle link to the overall theme of the show, in my opinion, also makes the photos the strongest.
I was left this month without the discouraging feeling I've had of late, and can't wait to see what new art excitement this winter will bring.
… Thanks Andrea!! 
What did you all do F1rst Friday? Did you see anything we saw? Let us know your thoughts in the comments…
TTLY, Conrad