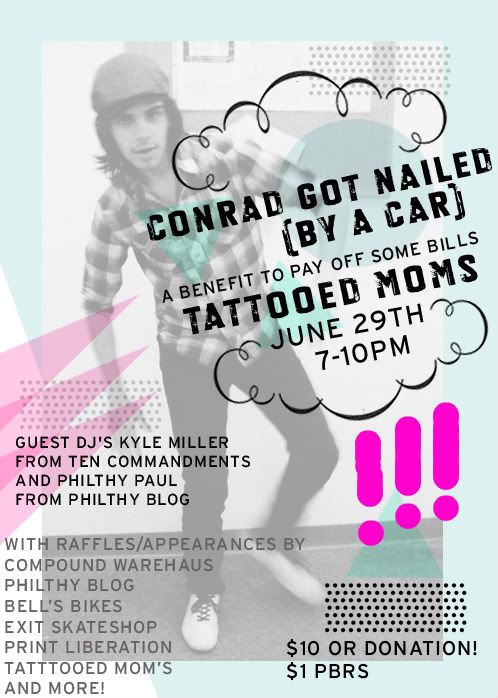 A benefit party to help me pay some bills! (AKA… PA should have way better laws for people who get hit by a speeding SUV while biking and get their leg broken in 3 places, because the "legal minimum" car insurance just doesn't cover it.)
The Compound Warehause, Philthy Blog and Tattoed Mom's are helping us throw a great party with all proceeds going to my bills. Upstairs at Tattoed Mom's with Kyle Miller from Ten Comandments and Philthy Paul DJing, and Joey from Love City behind bar! Ten dollar(ish) cover. Come early! We're having a raffle with super cheap tickets for gift cards and art work donated from local peeps including Tattoed Moms, Print Liberation, Exit Skate Shop, Gutter Fairy Vintage, Labold Brothers, Bell's Bikes and more…
Remember the event starts at 7PM, so get there on time if you want in on the raffle and $1 PBR pounder special!
Thanks to all the artists and businesses that donated! And thanks to all my awesome Philly friends who have given me so much love over the past few weeks. I can't wait to see you all Monday!!!
Oh, and lastly… Thanks to FUEL Gallery for the love and for the post about this event!
TTLY, Conrad