(CLICK on photos to see them on my Flickr. The quality's better there for some reason.)
Maybe it's just me, but over the last few days I have seen SOOO many more homeless/mentally ill people sprawled along the sidewalks throughout the city. Maybe I'm just noticing it more, but maybe I'm not. Maybe it's got something to do with the heat wave. Are we in a heat wave? Either way, I snapped these three photos on my three block walk from the El to work on Sunday. And I could have snapped more, if I had more balls, but it's really awkward to snap these photos, as you might imagine, I don't ask for permission or anything first.
The first woman you all probably know. She's the blind woman who's usually at the corner of 18th and Walnut streets, across from Rittnhouse square, playing a flute for cash (is it a flute? Please correct me if I'm wrong.) However today she was listening to a hand held radio at 13th and Chestnut streets. She didn't seem to be waiting for a bus or anything. Just hanin'.
The second woman was jotting notes incessantly and talking to herself at Juniper and Sansom streets, hauling what seemed like decent amount of stuff with her. She stopped me soon after I took this photo, as I walked by her, to let me know that the Navy had sprayed bacteria in the air around the Reading Terminal market, and warned me to be careful. Then she began mumbling something about how the government stole 7 million dollars from her and is sending people out to try and kill her. I thanked her for the warning, said that I felt sorry for her hard times, and left.
The third woman looked really ill, or at the very least dehydrated laying on Juniper and Chestnut streets, so I called 911. I then snapped that photo, because that what I do, I guess, after I call 911 for someone, but was quickly chased away by a fellow homeless "friend" of hers, who told me that she was just high and that I shouldn't have called 911.
And I posted this on my Flickr the other day and Tweeted about it, so it may not be new to you, however I just like it so much, and it seemed to fit in well with these other photos, so here you go…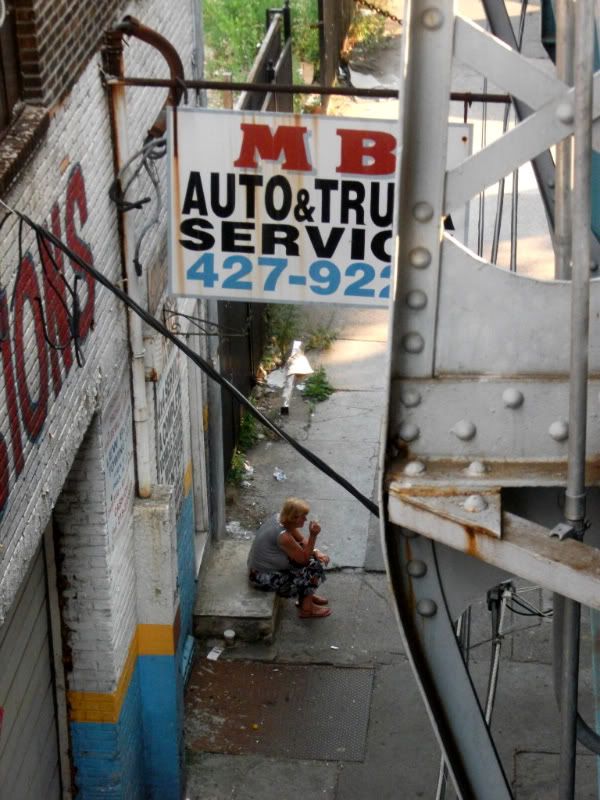 TTLY, Conrad