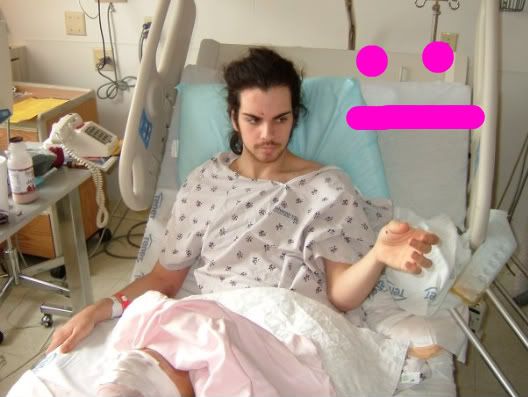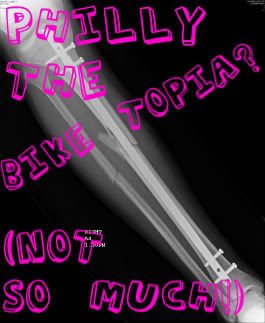 Hey everyone!
So you may have noticed (I hope that you noticed!) that I've taken the past few weeks off from blogging on Philthy Blog. This was (as you can probably tell from the above photos and title of this post) because I was hit by a car!
Yes, biking to work the morning of May 25th I was struck by a speeding SUV (going 25-30mph) at 6th and Spring Garden (while I was in the bike lane none the less) and got fucked up pretty badly. If you want to know… At impact, the SUV broke my lower right leg in 3 places, fucking my tibia (the larger bone in the lower leg) up so badly that it ripped through my skin and hung outside of my body. I then rolled onto the roof, the woman driving the SUV slammed on the brakes, and I flew 40-50 feet to the other side of 6th street in between some parking spaces where I smashed my head and received a "major" concussion. I also had tons of road rash, the worst of which was on my left foot. The doctor said it was the equivalent of a third degree burn because it was worn down to the last layer of skin. (That ended up getting infected and was mad annoying.)
The woman stopped, called an ambulance, and I was taken the the E.R. at Hahnemann where I had to get emergency surgery on my leg. They put a metal rod and 4 screws through my tibia. (Pictured!) And I spent 4 days in the hospital. The good news is that I lost about 10 pounds, that, I have since realized was probably some winter weight that I should have lost, so…
Anyway, I'm feeling much better now. I actually have been healing really quickly considering. I'm going to physical therapy 3 times a week and I should be able to walk again sometime in July! Yay!
Oh, the best part is that while the woman did stop and give her info to the police and it was NOT a hit-and-run. She has the least amount of legal car insurance in PA, which will only pay a fraction of my medical bills. (This is also the car insurance that most cab drivers have, so, watch out.) Anyway, WTF PA?!?!
That said… My friends are throwing me a benefit THIS MONDAY, JUNE 29TH upstairs at Tattooed Mom's from 7-10PM! With Kyle Miller and Philthy Paul DJing! There will be art to raffle on! Gift certificates to raffle on from PRINT LIBERATION, BELL'S BIKES, EXIT SKATE SHOP, and more! Oh, and $1 PBR tall boys! Not to mention that I haven't really been out in a month and it would be so awesome to see you all… Seriously, I'm in sore need of a good time.
Hopefully some of you will be able to make it out!! See you Monday!!
TTLY, Conrad