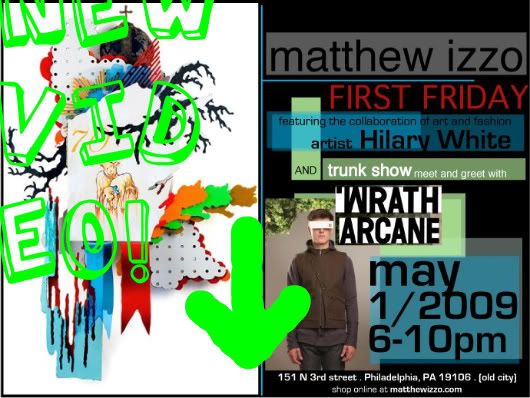 NEW VIDEO!!!
Philthy Blog heads over to the brand new Matthew Izzo store in Old City to interview Hilary White (installation artist) and Wrath Arcane (international menswear label based out of Cleveland)… Izzo's store looks amazing, you have to go right now if you've never been, srsly. 
For more information on Hilary White and Wrath Arcane, click below…
http://wratharcane.com/
http://hilarywhiteart.com/
And check back Wednesday for "F1rst Friday (Part 2)" where Louisa and I head to Stir Lounge, get really way 2 drunk, then interview DJ Lady Starlight (Lady Gaga's producer and bestie) and Gia Gaga (hottest girl at Stir/Gaga look-a-like)!!!
BTW, if you watch these videoz and do not comment on them, you WILL get swine flu.
TTLY, Conrad