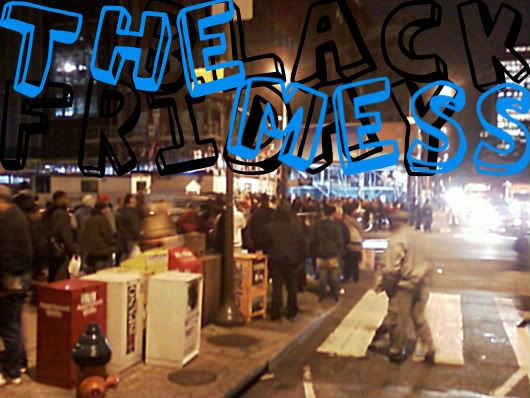 [5th and Market streets during a short and intentionally diverting(?) SEPTA El stoppage on Black Friday… So you're trapped in Center City and Christmas is a month away, what else is there to do but SHOP!?]
Did you know that the term "Black Friday" was originated by the Philadelphia Police Department back in 1966? "Black Friday was the name given to the Friday following Thanksgiving Day, the day that officially opens up the Christmas shopping season in Center City, and brings massive traffic jams and over-crowded sidewalks as the stores are mobbed from opening to closing." [Wiki]
Funny thing is I didn't plan on doing any shopping this past Friday, "Black Friday"… And aside from my absolute (yet apparently completely situational) fondness for Adbusters and their "Buy Nothing Day", all I really wanted to do was to take a nap, maybe Hulu some shit and relax from my (once a month) 9-5 job.
That's not to say I only work once a month, just that I'm usually a 3-11pm working stiff. And as you can imagine (maybe you can't, who am I to say what you can imagine) my body finds it quite the difficult task to adjust to waking up at 8am (let alone trying to fall asleep at a reasonable hour, of what? Midnight? To get the full 8 hours of rest. How could I? I think I fell asleep at 5am). Needless to say, getting some "Black Friday" balls pressed all up on my nap needing anti-all-this-capitalism-shit face was the last thing I expected… SEPTA had other plans.
After only a few blocks my train came to a stop at 5th street with the announcement that "Due to Police activity this will be the last stop", followed by information on how to catch a shuttle to Spring Garden to get back on the El going eastbound to Frankford. Followed immediately by the sight of huddled masses [above] waiting for the shuttles. And my beginning walk through Old City and Northern Liberties (and to a number of their wonderful shops) home to Fishtown.
Loooong story short Sugarcube had men's vintage(?) GAP flannels on-sale(?) for $70s… Yeeeaaahhh…Fuck that. Meanwhile Lost + Found, right across the street, had maaad cute stuff, all muuuch more reasonably priced and I spent $160 on a jacket, a belt, a winter hat, AND a sweater… SOLD! Get your shit together Sugarcube, you were all kinda uptight and weird too. Whereas the women at Lost + Found were super nice and helpful.
Lesson learned? Fuck Black Friday!! (Unless circumstances interfere, then just do whatever.)
TTLY, Conrad
P.s. While I have tried to learn what the "Police activity" was that stopped all the El trains from entering the 2nd street stop for a few hours Friday evening, I haven't been able to find anything. Hopefully no one was hurt, or fell in or anything like that. If you heard anything, let me know in the comments…