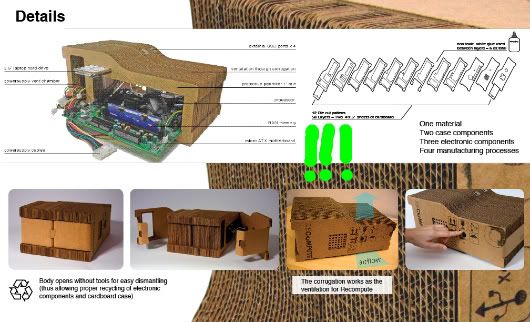 "Rather than making a large tower constructed from numerous materials (ABS plastic, aluminum, steel, etc.), hundreds of manufacturing processes, and dozens of individual components, the Recompute case is made of corrugated cardboard (recyclable and renewable). There are four low-impact manufacturing processes to assemble Recompute: Die cutting, gluing (with non-toxic white glue), printing and electronic assembly. Recompute uses only three major electronic components: A motherboard with processor & memory, power supply, and a hard drive." [Core77]
Ok I was just kidding abt the "25 Things" thing… My friend Jon just posted abt this on Facebook and I thought it was such a refreshing change of pace from all the ppl tagging me in their "25 things" notes that I would share it with all of u! 
… Um, but srsly… Can we all stop doing those "25 things" things on Facebook? Please? Let's use Facebook for good.
TTLY, Conrad